What People Are Saying…
"It was FANTASTIC!!! You absolutely exceeded our expectations – thank you so very much for making this an awesome way to kick off our business group – I think it was extraordinarily effective way to motivate folks as well as help some of our senior leaders see the art of the possible."
Watch Susan's TED Talk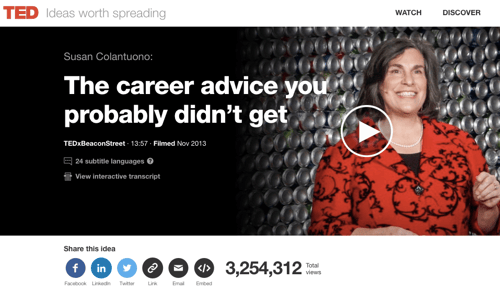 "I wanted to send you a note to congratulate you with the fantastic presentation on TED.com. I am so impressed with your great work and loved the presentation. It actually made me revise a brief that I was working on for the CEO that same evening."
"It was a fantastic event and we could not have done it without Susan! She was simply amazing and we have received great feedback on her keynote presentation and workshop as well."
"Thank you so much, Susan!! You did a phenomenal job setting us up for future conversations and I am already hearing the buzz about how real, actionable and meaningful your presentation was! I've heard from several individuals already who were VERY inspired and motivated by your talk."
"I was enlightened by the content at your session – and it has already adjusted my thinking to what I do and its connection to our business. Wow – what a missing puzzle piece! "
"It is no surprise your presentation was so well received. You were awesome! I hope people buy your book since it has even more insightful information."
"I wanted to extend a huge thank you from myself and the entire team. We were honored to have you join us as a keynote speaker for this year's conference. I have received unbelievable feedback on the relevance and diversity of your presentation. Everyone in the general session were able to talk away with new information on the gender divide and solutions that they can implement into their careers. Thank you for adding great value to our conference."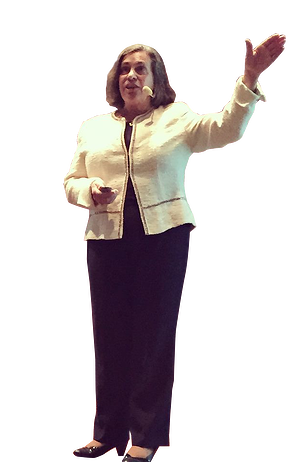 About Susan
Susan L. Colantuono is the CEO of Leading Women, one of the world's premier consulting firms supporting corporate initiatives to advance women and close the leadership gender gap. She founded and ran the Women's Institute for Leadership at Bryant University from 2002 - 2010, is the author of No Ceiling, No Walls: What women haven't been told about leadership, Make the Most of Mentoring and innumerable articles about the leadership gender gap, leadership, and women's advancement.
Internationally known as an expert in women's leadership development, gender dynamics and hidden gender bias, Susan has spoken on these subjects for the Global Women's Leadership Summit, WIN Conference, National Association of Women Lawyers and many other conferences and corporations. Her TEDxBeaconStreet talk on Closing the Leadership Gender Gap was featured as Today's Talk on the TED.com website, an honor given to fewer than 1% of all TED Talks from around the world. Read more.