Talent & Performance Systems that Attract, Retain and Advance Women
Enhance HR and other systems to create a level playing field for women.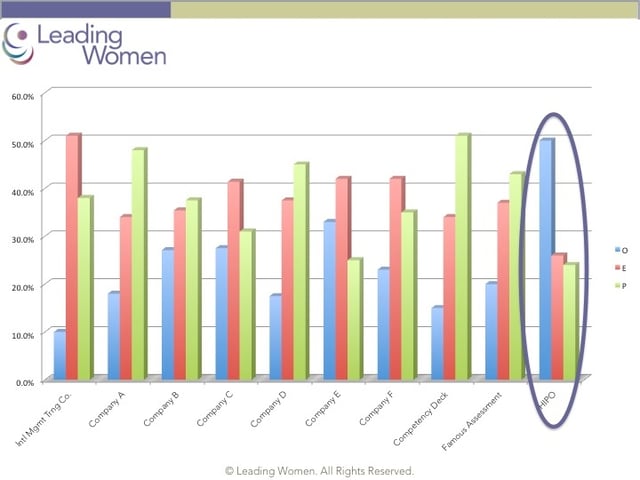 Have you ever wondered if your organization's leadership gender gap might indicate that your talent development and performance management systems have a built-in gender bias – and are hurting - not helping - top talent advance to senior positions?
Our research indicates that there are very subtle gender-related biases in many talent and performance systems.
To avoid gender-related constrictions in the talent pipeline, Leading Women works with you to analyze a variety of systems for gender-bias and develop long-term strategies for expanding your talent pipeline. They include:
Leadership model and programs

Performance management and competency model

Criteria for high potential designation and succession planning

Mentoring/sponsorship programs
Your talent development and performance management systems will more consistently and predictably enable your best talent to rise to the top.

"We're incorporating Leading Women's definition of leadership into our performance management system. That's how much this program is impacting our company."Kathleen M. VP HR
"Of all the forces that hold women back, none are as powerful as entrenched beliefs. While companies have worked hard to eliminate overt discrimination, women still face the pernicious force of mindsets that limit opportunity…"
McKinsey

Managers have mindsets* about women and men, about leadership and careers. Many of these mindsets create barriers for women and get in the way of developing top talent.

Helping managers (both women and men) take action to minimize gender barriers is the new frontier in women's advancement -- and one that Leading Women is uniquely positioned to help you address.

For decades we've tracked over 15 of these gender dynamics. Our research tells us that the barriers created by them differ by country and corporate culture.

Knowing this you can count on us to work with you to identify the barriers most common in your business locations and prepare managers to make more equitable, and effective talent decisions.

* At Leading Women we prefer to talk about managers' mindsets (we all have them!) and gender dynamics rather than talk about second generation bias, or unconscious bias, etc.

Have you ever wondered if your organization's leadership gender gap might indicate that your talent development and performance management systems have a built-in gender bias – and are hurting - not helping - top talent advance to senior positions?

Our research indicates that there is very subtle gender-related bias in many talent and performance systems.

To avoid gender-related constrictions in the talent pipeline, Leading Women works with you to analyze 4 systems for gender-bias and develop long-term strategies for expanding your talent pipeline:

Leadership model and programs

Performance management and competency model

Criteria for high potential designation and succession planning

Mentoring/sponsorship programs

Your talent development and performance management systems will more consistently and predictably enable your best talent to rise to the top.

"We're incorporating Leading Women's definition of leadership into our performance management system. That's how much this program is impacting our company."Kathleen M. VP HR