Engage Managers and Executives
Implement effective strategies for more equitable talent decisions


| | |
| --- | --- |
| | Changing Mindsets, Taking Action and Building #MaleAllies |

In order to close the leadership gender gap, companies are increasingly looking for ways to engage managers in ways to more equitably identify and develop talent. The requests come in many forms
"Can you help us develop male allies and advocates?"
"How do you build male champions of change?"
"Do you deliver unconscious bias training?"
"Our executives don't see the need for women's leadership development. Can you help?"
While we don't focus on building male allies or male champions of change (why call out men when there are also women in management whose actions can create barriers for other women), we offer many solutions that effectively engage decision makers in actions to close the leadership gender gap. Here are a few:
Changing the Mindsets, Commitments and Actions of Managers and Executives
Working directly with managers whose actions and talent decisions impact the career development of women is a powerful way to make change and close the gender gap at the top. Here are 4 ways that we do that.
1. Gender Dynamics Programs
"Of all the forces that hold women back, none are as powerful as entrenched beliefs. While companies have worked hard to eliminate overt discrimination, women still face the pernicious force of mindsets that limit opportunity…"
McKinsey

Managers have mindsets* about women and men, about leadership and careers. Many of these mindsets create barriers for women and get in the way of developing top talent.

Helping managers (both women and men) take action to minimize gender barriers is the new frontier in women's advancement -- and one that Leading Women is uniquely positioned to help you address.

For years, Leading Women has tracked research on the ways over 15 mindsets impact talent decisions. We call these gender dynamics. Our global research into 11 of them tells us that those that create the greatest barriers to gender neutral advancement vary by country and corporate culture. Our unique approach to educating people managers about these dynamics focuses on actions to minimize their adverse impact.

Knowing this you can count on us to work with you to identify the barriers most common in your business locations and prepare managers to make more equitable, and effective talent decisions.

* At Leading Women we prefer to talk about managers' mindsets (we all have them!) and gender dynamics rather than talk about second generation bias, or unconscious bias, etc.
2. Reverse Mentoring
Leading Women's reverse mentoring program enables people in more senior positions (managers/executives, women and men) to gain insight from having regular, semi-structured conversations with employees who are likely to see the world from a different perspective. These employees are invariably more junior…hence the notion of 'reverse' mentoring.
3. Gender Dynamics Executive Briefings
Executive engagement is a critical success factor for initiatives to close the leadership gender gap. Through our gender dynamics briefings executive teams align around the key drivers for their organization's gender initiative, discuss goals and develop action commitments for ongoing support.
4. Gender Dynamics Focus Groups
When ascertaining which gender dynamics create the greatest barriers to women's advancement for your company and/or in a specific country, our focus groups increase awareness of the various mindsets of managers that create roadblocks - and does so in a nonthreatening way.
Supporting Women's Leadership Development
Our leadership development programs for women at every level offer many opportunities to engage and educate people managers about ways to strengthen their leadership skills for identifying and developing women in the talent pipeline. Here are 3:
1. Participating in the Leadership Program Launch
The launch of our women's programs offers important opportunities for managers to gain insights into Leading Women's groundbreaking research into barriers to women's advancement and to have discussions about how that research can inform changes in their behaviors.
Works best when cohort members and their managers are on the same site (or can be).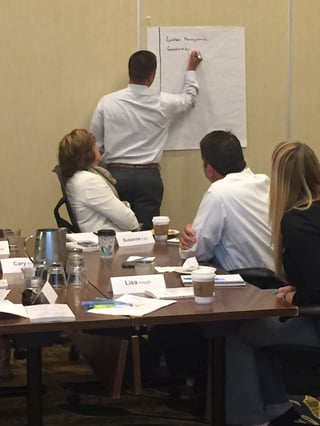 2. Leadership Program Briefings
Webinar briefings about the content that their direct reports will be exposed to also serves as a call to actions to reinforce and broaden the leadership skills being addressed in our programs.
Works best when cohort members and their managers are spread around a country or around the world.
3. Develop PIE Mentoring™ skills
Mentoring interventions have consistently been proven to make a significant positive difference in the career trajectory of women. By exposing people managers and executives to Leading Women's concept of PIE Mentoring, the mentoring experience itself is transformed and the opportunity for women to earn sponsorship is increased.
Delivered live or virtual. Managers can join the women's leadership program for the PIE Mentoring module or receive separate exposure.

"Of all the forces that hold women back, none are as powerful as entrenched beliefs. While companies have worked hard to eliminate overt discrimination, women still face the pernicious force of mindsets that limit opportunity…"
McKinsey

Managers have mindsets* about women and men, about leadership and careers. Many of these mindsets create barriers for women and get in the way of developing top talent.

Helping managers (both women and men) take action to minimize gender barriers is the new frontier in women's advancement -- and one that Leading Women is uniquely positioned to help you address.

For decades we've tracked over 15 of these gender dynamics. Our research tells us that the barriers created by them differ by country and corporate culture.

Knowing this you can count on us to work with you to identify the barriers most common in your business locations and prepare managers to make more equitable, and effective talent decisions.

* At Leading Women we prefer to talk about managers' mindsets (we all have them!) and gender dynamics rather than talk about second generation bias, or unconscious bias, etc.

Have you ever wondered if your organization's leadership gender gap might indicate that your talent development and performance management systems have a built-in gender bias – and are hurting - not helping - top talent advance to senior positions?

Our research indicates that there is very subtle gender-related bias in many talent and performance systems.

To avoid gender-related constrictions in the talent pipeline, Leading Women works with you to analyze 4 systems for gender-bias and develop long-term strategies for expanding your talent pipeline:

Leadership model and programs

Performance management and competency model

Criteria for high potential designation and succession planning

Mentoring/sponsorship programs

Your talent development and performance management systems will more consistently and predictably enable your best talent to rise to the top.

"We're incorporating Leading Women's definition of leadership into our performance management system. That's how much this program is impacting our company."Kathleen M. VP HR