Equipping women to deal with gender dynamics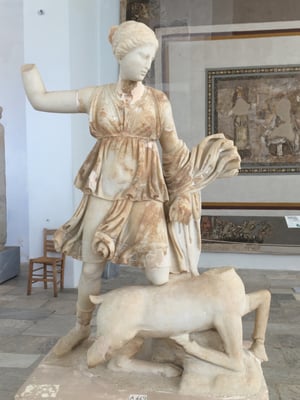 "History must be learned in pieces. This is partly because we have only pieces of the past...which give us glimpses of what has been but never the whole reality."
Thomas Cahill, author:
Sailing the Wine Dark Sea
This quote about the fragmentary nature of history reminded me of the photo I took of the goddess Artemis in the museum on the Greek Island of Delos (her birthplace). Artemis, the huntress, was one of the most widely venerated ancient Greek goddesses and seeing her I reveled in the thought that in certain cultures deities could be - and still can be - women.
In the U.S. and many other countries around the world we are very far from such cultures and far from any historic understanding of how the status of women has changed over time. Instead, as Marianne Cooper of Stanford University's Clayman Institute for Gender Research has said,
We spend much more time giving girls pep-talks than we do talking to them about sexism. Our need to encourage them over and over again... actually renders invisible the reasons that we need to be so encouraging in the first place.
The invisibility (dare I say denial) of sexism runs deep.