On a timely basis we curate fabulous articles about closing the leadership gender gap on our Facebook page, LinkedIn Leading Women group and company page, and also Tweet them out.
We then share the the best of the best here on our blog!
7 ways to start to uproot systemic racism in the workplace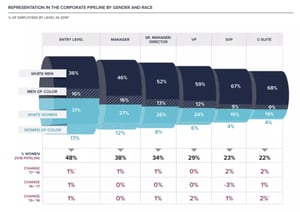 World Economic Forum
In addition to our core leadership content, Leading Women offers programs that provide BIWOC (who often holding the lowest % of leadership positions) with actionable strategies for navigating additional unique challenges they face. Learn more about our Executive Prep for Multicultural Women™ program here.
"Racism is deeply ingrained in our society – and as a result, it's deeply ingrained in our workplaces, too.
Organisations everywhere are discussing how to uproot systemic racism from the workplace. Where should you start?
Here are 7 practical steps for building a more diverse and inclusive organisation. (And keep in mind these steps are just the start.)..."