8 min read
On a timely basis we curate fabulous articles about closing the leadership gender gap on our Facebook page, LinkedIn Leading Women group and company page, and also Tweet them out.
We then share the the best of the best here on our blog!
Gender + Diversity Playbook:
Setting and Achieving Your Goals for 2021 and Beyond
Leading Women
In our new multipart series, Leading Women will address how #WeCanHelp your organization set and achieve your gender + diversity goals for the next year and beyond.
Read ON!
Part 1: 2020's Miss is Now a "New" 2030 Promise – But Will Orgs Break This Promise Too?
Part 2: From One CEO to Another—It's Time to Get Focused
Part 3: How to Engage & Retain More Women - Top 5 Things You Can Do!
Part 4: How To Change Your Company's Culture To Be More Inclusive
Part 5: Make Your Company Policies Inclusive by Looking at these 3 HR Tools
Part 6: Coming Soon!
The Leadership Hacker Podcast
Leading Women
Leading Women CEO, Kelly Lockwood Primus, recently had the pleasure of joining Steve Rush on his podcast "The Leadership Hacker." Please take a moment and listen in! Kelly shared three leadership hacks that she has been using in her own career for years. Perhaps they will help you strengthen your leadership skills!
Best Buy, Nasdaq on list of best companies for women to advance
BizWomen / The Business Journals
"... Parity.org, a nonprofit dedicated to closing the gender gap at the highest ranks of business leadership, has announced its Best Companies for Women to Advance List 2020....
... Companies on the 2020 list share several common best practices, the report found, including family-friendly policies like work-from-home or telecommute options (92%), flexible working hours (82%), and equal paid family leave for men and women (73%).
Companies that made the list were also likely to measure and report on gender parity to their executive team (95%) and/or board (68%).
There was also a strong relationship between having gender parity on the board of directors and having a female CEO. Among companies where more than 50% of the board directors is composed of women, 67% have a female CEO, the report found..."
Woman Says She Was Fired Because Her Children Disrupted Her Work Calls
New York Times
This will not be the last that we hear about discrimination lawsuits like this one. And I truly believe that if this employee was a man, he would be praised/rewarded for being a "caring parent," not fired for being an "unprofessional employee."
If you want to read more about the Motherhood Penalty/Fatherhood reward, check out these past blogs that Leading Women has written.

"... 'A woman pulling a baby into her lap during a conference meeting on a virtual call is very different than a man doing it,' Professor Collins said. 'And it's different for a woman of color than it is for a white woman. So I think we have to think again about the broader context in which this woman's termination played out'..."
A Century After Women Gained the Right To Vote, Majority of Americans See Work To Do on Gender Equality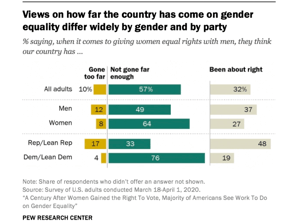 PEW Research Center
"... Among those who think the country still has work to do in achieving gender equality, 77% point to sexual harassment as a major obstacle to women having equal rights with men. Fewer, but still majorities, point to women not having the same legal rights as men (67%), different societal expectations for men and women (66%) and not enough women in positions of power (64%) as major obstacles to gender equality. Women are more likely than men to see each of these as a major obstacle.
Many of those who say it is important for men and women to have equal rights point to aspects of the workplace when asked about what gender equality would look like. Fully 45% volunteer that a society where women have equal rights with men would include equal pay. An additional 19% say there would be no discrimination in hiring, promotion or educational opportunities. About one-in-ten say women would be more equally represented in business or political leadership..."
Michelle Obama Announces New Podcast Aiming to 'Build More Understanding and Empathy for One Another'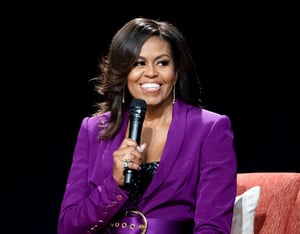 TIME
"... The former first lady will host "The Michelle Obama Podcast" on the streaming service, the Obama's Higher Ground and Spotify announced Thursday. The podcast will exclusively debut on Spotify on July 29.
'My hope is that this series can be a place to explore meaningful topics together and sort through so many of the questions we're all trying to answer in our own lives,' Obama said in a statement..."
We signed the ParityPledge® in Support of People of Color!
Leading Women
Leading Women has been a proud supporter and resource for Parity.org since 2017 and we are happy to sign their new ParityPledge® in Support of People of Color. #ParityPledge
"Parity.org's mission is simply this: Equal Representation. Now. We started with where the gap was the widest at the top ranks of industry--women. This is still a major focus for us. But in recent months it has become clear that that's not enough. People are marginalized not just for gender, but also for their race--the second largest group of underrepresented people. So we specifically created this new pledge to shine a light on the importance of intentionally correcting the imbalance at the top of companies."
Crowdsourcing Request -
Women CEO & Presidents Research Study
Leading Women
Tired of reading interviews with women CEOs and Presidents which only focus on work-life-balance? Do you want to know what it really takes to move from middle management to the C-Suite? Let us know what you want us to ask!
Leading Women is currently conducting a research study interviewing women CEOs and Presidents from around the globe.
Please contact us and let us know what questions you would love to ask these #LeadingWomen.