On a timely basis we curate fabulous articles about closing the leadership gender gap on our Facebook page, LinkedIn Leading Women group and company page, and also Tweet them out.
We then share the the best of the best here on our blog!
Spacesuit issue means first all-women space walk is off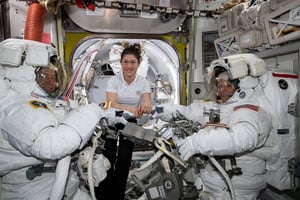 The Business Journals
"... The lack of a medium-sized spacesuit means a historic first all-female spacewalk won't be happening March 29 after all.
The International Space Station only has one medium-sized spacesuit that's prepped for a spacewalk, and that's the size that best fits both Anne McClain and Christina Koch, the astronauts who were scheduled to make the spacewalk, USA Today reports.
So, instead, Koch will make the second of three planned spacewalks to make repairs to the space station's solar arrays March 29 with U.S. astronaut Nick Hague, and McClain is scheduled to conduct the third repair mission April 8 accompanied by Canadian Space Agency astronaut David Saint-Jacques.
McClain wore a large-sized spacesuit on the first repair mission March 22 and found that the suit was too big for her to maneuver in comfortably, NPR reports. ..."
U.S. Mathematician Becomes First Woman To Win Abel Prize, 'Math's Nobel'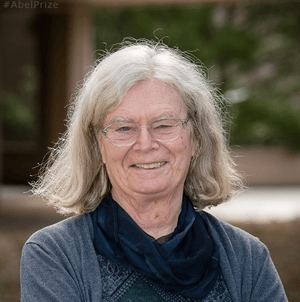 NPR
"... Uhlenbeck, an influential mathematician who was for decades a professor at the University of Texas at Austin and who has sought to encourage women to study mathematics, has become the first woman to win the Abel Prize — often called the Nobel Prize of math.
Uhlenbeck's complex and wide-ranging work includes analyzing the "minimal surfaces" of soap bubbles and finding ways to unite geometry and physics through new mathematical approaches. She's widely respected for her work on esoteric topics, such as partial differential equations and the calculus of variations.
"Uhlenbeck's research has led to revolutionary advances at the intersection of mathematics and physics," said Paul Goldbart, a professor of physics who is also the dean of UT's college of natural sciences. In a statement about Uhlenbeck winning the Abel Prize, he added, "Her pioneering insights have applications across a range of fascinating subjects, from string theory, which may help explain the nature of reality, to the geometry of space-time." ..."
Women's soccer players sue U.S. federation for gender discrimination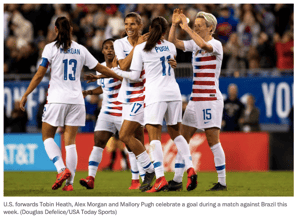 Washington Post
"...Just months before they are set to defend their world title on the global stage, the members of the U.S. women's national soccer team filed a gender discrimination lawsuit against U.S. Soccer on Friday, accusing the national federation of paying lower salaries to women and subjecting them to more dangerous playing conditions than their male counterparts.
The lawsuit continues a years-long battle between the women's team, which has vaulted in status while winning the World Cup three times, and U.S. Soccer over the players' compensation and treatment compared with that of the men's team, which has accomplished far less, never winning a world title and failing to qualify for the most recent World Cup..."
Adidas Announces Bonus Payout for FIFA Women's World Cup Winners Equal to Male Counterparts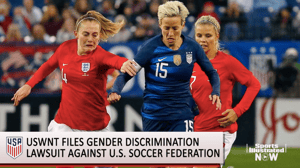 Sports Illustrated
"...Equal pay for equal play is Adidas' motto for this year's FIFA Women's World Cup. The sportswear giant announced Friday that all athletes on the winning team of this year's tournament will receive a bonus payout equal to that of their male counterparts.
"Today we are announcing that all adidas athletes on the winning 2019 FIFA Women's World Cup team will receive the same performance bonus payout as their male peers," Adidas Executive Board Member Eric Liedtke said in a statement Friday..."
Black Women Making History: 10 Black Women Working to Make Companies More Inclusive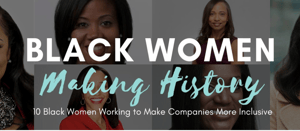 Linked In
"It's Black History Month (and Women's History Month is quickly approaching), so I wanted to highlight some Black women who are making history in the work they are doing each and every day. Today I'm featuring 10 Black women who are working hard within organizations to make sure that either their companies and cultures or their supplier bases are more inclusive. And, as you will see, these women are role models not only inside of their organizations, but outside of their organizations as well...."
"...Today is International Women's Day. I've been thinking about today and Women's History Month for weeks in order to write this post. What words of wisdom would I be able to share with our colleagues, our clients and our followers?
Two words. Double Down. ..."