On a timely basis we curate fabulous articles about closing the leadership gender gap on our Facebook page, LinkedIn Leading Women group and company page, and also Tweet them out.
We then share the the best of the best here on our blog!
Closing the gender gap: A missed opportunity for new CEOs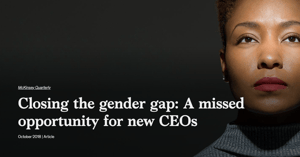 McKinsey Quarterly
This piece is from October, but well worth sharing again! And read here for more on making the business case for diversity.
"CEO transitions matter, too. Our research has shown that a CEO's likelihood of outperforming his or her peers depends heavily on the mix of strategic and organizational decisions made during the first two years on the job. Management reshuffles—a critical piece of the performance puzzle for many new CEOs, according to our research—should create opportunities for new CEOs to boost gender diversity. Too few do so, however, suggesting that new CEOs, and the boards that hire them, should be asking tougher questions about diversity and asking those questions sooner than they normally do..."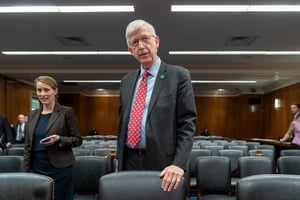 The New York Times
"... "I want to send a clear message of concern: It is time to end the tradition in science of all-male speaking panels," Dr. Collins wrote.
"Starting now," he added, "when I consider speaking invitations, I will expect a level playing field, where scientists of all backgrounds are evaluated fairly for speaking opportunities. If that attention to inclusiveness is not evident in the agenda, I will decline to take part. I challenge other scientific leaders across the biomedical enterprise to do the same."
His announcement was applauded by scientists who have long urged speaker diversity at conferences...."
They Gave America 13 Goals—And Got a Lecture in Return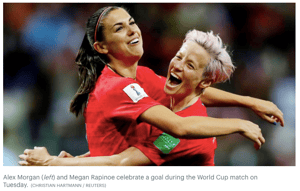 The Atlantic
"... The Americans eventually won 13–0. But, rather than being praised for setting a World Cup record for scoring the most goals in the tournament's history and securing the largest margin of victory ever, the win turned into a debate about sportsmanship.
Instead of Team USA being celebrated for what its players achieved, the victory became an opportunity to lecture these women on how to behave. That lecture is all the more galling given that, in March, the team filed a gender-discrimination lawsuit against the U.S. Soccer Federation. The women are fighting, in the courts, for equal pay and respect—and, on the field, for the right to pummel their opponents and express themselves in a way that men often do.
"Either way, people are going to say something," the former women's national-team forward Sydney Leroux Dwyer told me in a text message. Dwyer won the World Cup with Team USA in 2015. "You celebrate, you're rubbing it in their faces," she wrote. "You don't, and you're entitled or cocky." ..."
Cold, male-friendly offices may be taking a toll on women's productivity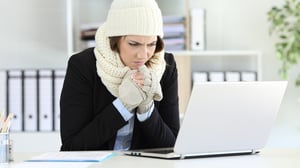 PBS - NOVA
"A lot has changed for the better since women entered the workforce. But one needn't look further than an office thermostat to realize we still live in a world designed for men.
It's been years since the so-called "battle for the thermostat" was first waged, but even today, the war rages on. Studies have found that offices often set their thermostats according to the cooler preferences of men, who generate more body heat because of their higher metabolic rates, leaving women perpetually in want of shawls and sweaters.
Now, new research suggests that frigid workplaces aren't just culling comfort for women: It could be taking a chilling toll on their productivity, too. According to a study published yesterday in the journal PLOS ONE, women tend to perform worse on cognitive tests as temperatures decline, while men's mental acumen appears to sharpen ever so slightly in the absence of heat. ..."
Read ON!
What is the Glass Cliff?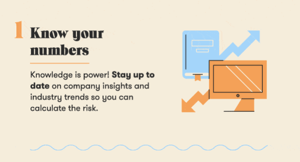 Leading Women
"... Women who want to advance to top roles in their companies should carefully examine company trends and insights to assess the level of risk that comes with an executive position. In addition, factoring risk into salary negotiations can help to secure a competitive salary for a precarious leadership role. Determining how success in the role will be measured will also set the stage for performance standards.
Ultimately, the glass cliff is no match for an empowered women at work. Though it can be a cruel paradox to face, there are several ways for women to navigate the glass cliff without falling off. See the infographic from Fundera for more..."