On a timely basis we curate fabulous articles about closing the leadership gender gap on our Facebook page, LinkedIn Leading Women group and company page, and also Tweet them out.
We then share the the best of the best here on our blog!
The 2018 NAFE Top 70 Companies for Executive Women
Working Mother
Congratulations to our many clients who have made the NAFE/WorkingMother Top Companies for Executive Women 2018 list!
-Susan
"At the 2018 NAFE Top Companies, 37 percent of senior managers are women, while almost half of promotions to manager level and above go to women. To find out how the today's top companies are achieving those impressive numbers..."
Here's How to Triple the Number of Women Managers in Any Company
Fortune
"...Accenture's analysis, which focuses on how culture is key to achieving equality for women in the workplace, is based on interviews with 22,000 people in 34 countries. It finds that there are almost three times more women on the "fast track" in organizations with at least one female senior leader: 23%, compared to 8% for companies with all-male leadership. The professional services firm defines a "fast track" woman as one who reaches manager level within five years and leads her peer group in terms of advancement in the workplace.
The biggest impact, Accenture says, comes from increasing the proportion of women on a leadership team from none to a third. How to get companies to take that first step? Hold the leadership team accountable. Workplaces in which senior executives' feet are put to the fire on gender diversity are 60% more likely to have a greater share of women in executive leadership roles..."
Are you serious about increasing the number of women in leadership positions at your organization? Contact Leading Women to talk about how we can support your efforts!
OVERLOOKED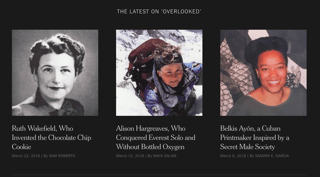 New York Times
"Since 1851, obituaries in The New York Times have been dominated by white men. Now, we're adding the stories of remarkable women.
Obituary writing is more about life than death: the last word, a testament to a human contribution.
Yet who gets remembered — and how — inherently involves judgment. To look back at the obituary archives can, therefore, be a stark lesson in how society valued various achievements and achievers.
Since 1851, The New York Times has published thousands of obituaries: of heads of state, opera singers, the inventor of Stove Top stuffing and the namer of the Slinky. The vast majority chronicled the lives of men, mostly white ones; even in the last two years, just over one in five of our subjects were female..."
How the tech industry is attracting more women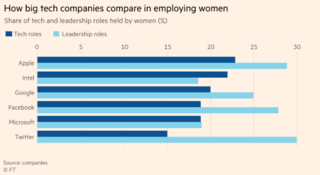 Financial Times
"...Until recently, this male-orientated wording was how Vodafone would advertise for a cloud service operations engineer. Now, the telecoms company scans every job posting to check for and correct gender bias in order to encourage women to apply for the job. The same ad would currently read more like: "Seeking extraordinary individuals with a real passion for critical technology to help on our bold journey to improve our top-tier network and help create alignment." Rephrasing job ads increased the number of women Vodafone recruited by 7 per cent during a three-month trial last year..."
Picture a Leader. Is She a Woman?
New York Times
...Several researchers in organizational psychology who have had a similar experience with this exercise decided to investigate further. How might holding unconscious assumptions about gender affect people's abilities to recognize emerging leadership? What they found, in a study posted by the Academy of Management Journal, seems to confirm what many women have long suspected: getting noticed as a leader in the workplace is more difficult for women than for men. Even when a man and a woman were reading the same words off a script, only the man's leadership potential was recognized....
Read ON!
Why are women CEOs rated more harshly than men? (The Hillary Clinton Effect)
Thinknum
This is a fact: there are a lot more men who are CEOs than there are women. This is also a fact: when women do make it to the top as CEO, they are judged more harshly.
Job site Glassdoor encourages employees to anonymously rate their companies. These ratings include employer business outlook, work environment, and, for our purposes here, how employees rank their CEO. There are just three grading options: Thumbs up, thumbs down, or neutral. Last year, Glassdoor came out with its 2017 list of 100 top-ranked CEOs. The results — perhaps not surprisingly — are telling.
Put simply: Male CEOs get top marks. Women CEOs don't.
Starbucks Promises 100% Pay Equality for Women and Minorities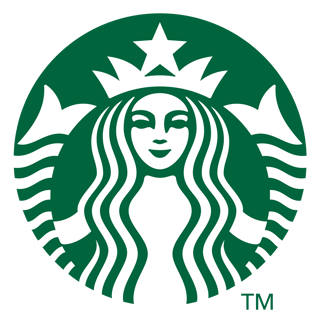 Fortune
"...Starbucks Corp. is aiming to eliminate pay disparities based on gender and race, a move that it says will level the field for employees across the globe.
The coffee giant said Wednesday it would achieve and maintain 100 percent equal pay for all its employees, known as partners, who perform similar work in company-operated markets. It didn't give a timeline for the goal, which includes countries such as the U.K., France, Canada, Japan and China. Starbucks has already done this domestically, it said.
'It is important, as a company of our scale, to help bring more attention to this critical issue," said Lucy Helm, Starbucks' chief partner officer. "It is incumbent upon us to do more.' ..."
She Was the Only Woman in a Photo of 38 Scientists, and Now She's Been Identified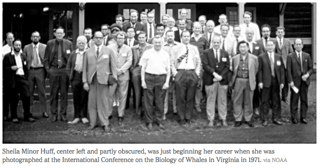 New York Times
"... Ms. Andersen said the men were named in a caption but the woman was not. "My curiosity nagged at me, not knowing who the woman in the photo was, or perhaps what she may have contributed to the conference," she said.
How do you identify a person when all you have is half of a smiling face in a 47-year-old black-and-white photo? ..."