On a timely basis we curate fabulous articles about closing the leadership gender gap on our Facebook page, LinkedIn Leading Women group and company page, and also Tweet them out.
We then share the the best of the best here on our blog!
Davos 2018: The World Economic Forum Tries to Meet the #MeToo Moment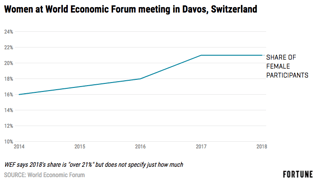 Fortune
"Can the World Economic Forum, maligned for years as an elite boys' club, meet the #MeToo moment? Early signs indicate that—at the very least—it's giving it a valid try.
In its most obvious nod to the on-going conversation, WEF in November announced the co-chairs for the annual meeting—seven women and no men:
Sharan Burrow, General-Secretary, International Trade Union Confederation (ITUC), Belgium
Fabiola Gianotti, Director-General, European Organization for Nuclear Research (CERN), Geneva, Switzerland
Isabelle Kocher, Chief Executive Officer, ENGIE, France
Christine Lagarde, Managing Director, International Monetary Fund (IMF), Washington, D.C.
Ginni Rometty, Chairman, President and Chief Executive Officer,

IBM, USA
Chetna Sinha, Founder and Chair, Mann Deshi Foundation, India
Erna Solberg, Prime Minister of Norway"
Delivering through diversity
McKinsey & Company
Yet another study verifying relationship between diversity and business performance (or between well run companies and diversity-positive talent processes).
-Susan
"In the original research, using 2014 diversity data, we found that companies in the top quartile for gender diversity on their executive teams were 15 percent more likely to experience above-average profitability than companies in the fourth quartile. In our expanded 2017 data set this number rose to 21 percent and continued to be statistically significant. For ethnic and cultural diversity, the 2014 finding was a 35 percent likelihood of outperformance, comparable to the 2017 finding of a 33 percent likelihood of outperformance on EBIT margin; both were also statistically significant."
Why Are Women Absent From So Many Strategic Conversations?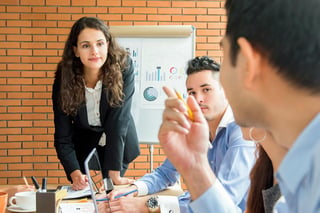 Forbes
"So many women leaders I coach tell me they're often the minority gender in the conversational space, and male colleagues rarely leverage their ideas. When someone else does adopt their idea, they're never acknowledged, and it feels like rejection.
So, I ask you to think, "What happens to the woman who originally generated this idea?"
If she's ignored enough, she becomes silenced and absent from future strategic conversations. She gets no credit attached to her contribution. She also misses out on the feeling of being rewarded, the feeling of safety after her decision to provide a contribution and the feeling of being valued for providing beneficial insight. It's clear this powering-over is not being done consciously and has no malicious intent, but it happens frequently in corporate settings, and it has real consequences for females."
Here's why America's biggest boardrooms still cater to men... for now
The Business Journals
"Among those thousands of companies, male directors outnumbered their female peers by a six-to-one ratio at the end of 2017. The Business Journals also identified 710 boards that reported no women directors at all, and found another 1,034 companies with just a single woman director at year's end — meaning more than half of the companies analyzed had one or fewer women directors on their boards last year."
For This CEO, the Next Generation's Success Is Just as Important as Her Own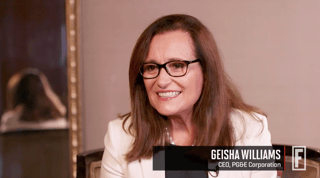 Fortune
Exciting to see Geisha Williams of PS&G, the first Latina F500 CEO, speak about career success, being a powerful woman and mentoring. What the article won't tell you that the video will is this gem - right in line with Leading Women's career advice - is this secret to her success...
-Susan
"...understanding the business and really going into the hard core aspects of the business...the operations. I've had mentors tell me...you've got to get a little dirt under your fingernails. You really do have to understand the essence of what your business is about."
The most common excuses for not having enough women leaders are myths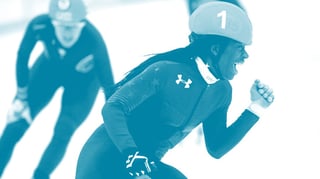 Quartz
To which we would add the
"woman aren't interested in the business" myth,
"mothers don't care about their careers" myth
"women who engage their employees can't make tough decisions" myth
... to mention just a few others!
-Susan
"...These myths go something like this: If only women would be more assertive. If only they would raise their hands and take more risks. If we could just fix the women, then the leadership roles that have so long eluded women would be theirs..."
3.5 Million Views and Counting...
Leading Women
It has been a little over 4 years since Leading Women CEO, Susan Colantuono, took the stage at TEDxBeacon Street and we are happy to announce that 'The career advice you probably didn't get' has now surpassed 3,500,000 views!
We would like to take this time to thank you for your support of Leading Women and your commitment to closing the leadership gender gap.
Haven't seen Susan's talk? Check it out below.
Contact us today if you are interested in having having Leading Women speak at your organization or you next event!
Read ON!