On a timely basis we curate fabulous articles about closing the leadership gender gap on our Facebook page, LinkedIn Leading Women group and company page, and also Tweet them out.
We then share the the best of the best here on our blog!
Don't blame women for leaving fields like engineering. Blame bad attitudes.
Quartz Africa
Women leave jobs in the engineering field due to:
poor & unfair working conditions

(e.g.

inequitable compensation)
dissatisfaction with the effective use of their math and science skills,
lack of recognition at work

,

adequate opportunities for advancement.
Op-ed: It's time to reconsider how we encourage women's leadership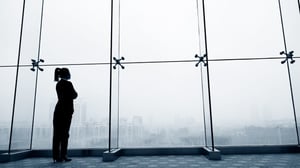 Ottawa Business Journal
"Rather than focusing on promoting women leaders for the simple goal of achieving gender parity, managers must engage in self-examination of both themselves and their organizations, identifying subtle ways that women are being held back."
Goldman Sachs' new initiative will courier working mums' breast milk to their babies across the world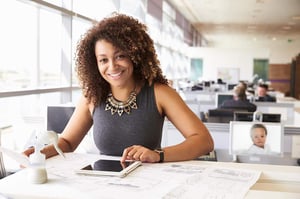 Evening Standard
Goldman Sachs jumps on what is now a years-long trend. EY started shipping employees' breast milk way back in 2007. IBM launched a similar program in July 2015. Accenture and Twitter followed suit that same year; law firm Latham & Watkins added a similar policy in 2016.
How Sexism Follows Women From the Cradle to the Workplace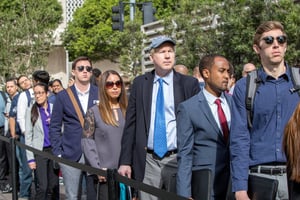 New York Times
Now imagine the impact of adding racism on top of this.
"...A woman born in the Deep South is likely to face a much wider economic gender gap than a woman born on the Pacific Coast, the research shows, even if both women move to New York as adults..."
Female CEOs are rare. Two in a row at the same company is (almost) unheard of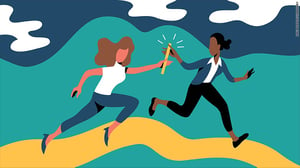 CNN Money
Only 3 Fortune 500 woman-to-woman CEO successions: in 2009-Ursula Burns from Anne Mulcahy-Xerox; in 2011-Sheri McCoy Avon Products from Andrea Jung; in 2017, Debra Crew became CEO at Reynolds American, taking over from Susan Cameron.
BEYOND EMPOWERMENT: THE CASE FOR TEACHING BUSINESS FUNDAMENTALS TO WOMEN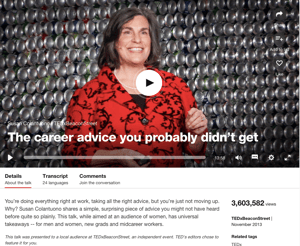 AdAge
This is an excellent read, and not just because it mentions Susan's Ted Talk:
"...One of my favorite Ted talks is "The Career Advice You Probably Didn't Get," by Susan Colantuono, CEO of Leading Women. She pointed out that the most important skill set that determines whether women in business move up the ladder and out of the bog of middle management, where 50 percent of the workforce historically is women, "has to do with understanding where the organization is going, what its strategy is, what financial targets it has in place, and understanding your role in moving the organization forward. This is that missing 33 percent of the career success equation for women, not because it's missing in our capabilities or abilities, but because it's missing in the advice that we're given..."
The Empowering Internet Safety Guide for Women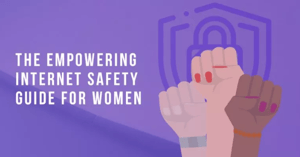 vpnMentor.com
"Have you ever been harassed in the street? Received a crass message on a dating app? Had a coworker make a comment about your appearance that just didn't sit right?
You're not alone.
With the #MeToo movement, it's easy to log onto Twitter or Facebook and see just how many women are victims of sexual harassment. Whether in person or online, women everywhere have experienced it in one way or another. And with all the new ways the internet has opened avenues of communication, online harassment is more prevalent than ever."
Investment Banking's Elite Is 96% Men, But There's a Big Outlier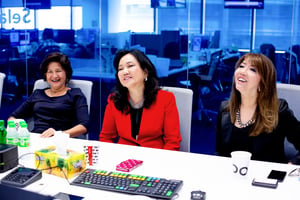 Bloomberg
"...Why is Malaysia bucking the trend? We sat down with three of the nation's top female investment bankers to find out. A two-hour conversation in Kuala Lumpur produced answers ranging from the practical (easy access to domestic help) to the policy-driven (a government campaign to attract more female leaders to the workforce)..."
Congratulations to Veeam's Class of 2018!
Leading Women
Congratulations to Veeam's Class of 2018 Breakthrough Leadership class! It was a pleasure working with all of the amazing women in this year's cohort.
For more information on Leading Women and Veeam's Women In Green program, check out our blog Empowering Women in Tech to Reach the Top.