On a timely basis we curate fabulous articles about closing the leadership gender gap on our Facebook page, LinkedIn Leading Women group and company page, and also Tweet them out.
We then share the the best of the best here on our blog!
3.6+ Million Views!
Leading Women
Leading Women CEO - Susan Colantuono's TED Talk "The career advice you probably didn't get" just hit 3.6 MILLION views! If you haven't seen it yet, you are truly missing out!
"You're doing everything right at work, taking all the right advice, but you're just not moving up. Why? Susan Colantuono shares a simple, surprising piece of advice you might not have heard before quite so plainly. This talk, while aimed at an audience of women, has universal takeaways -- for men and women, new grads and midcareer workers."
Haven't seen it yet? Check it out here...
Even at the top, women still face sexism. Just not the kind you'd think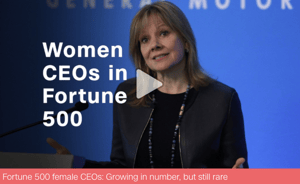 CNN Money
"Even at the very top of their fields, women can't escape stereotypes.
A man apologizes for foul language in front of a female colleague, assumes the female employees will handle the office chores, or offers to shoulder more burdensome work to "spare" female colleagues.
New research shows that such examples of "benevolent sexism" — behaviors that are seemingly positive on the outside, but toxic on the inside — follow women all the way to the C-suite...."
More than 80 percent of women in tech say they feel pressure to return early from parental leave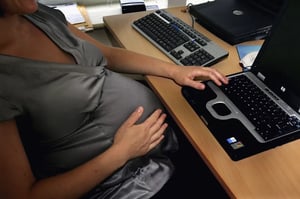 Recode
"Nearly a third worry about losing their jobs, according to a new report from Indeed.
Tech employers are ahead of the national average in offering paid parental leave, but a new study shows that many women in tech are afraid to use those benefits in full.
In a survey of 1,005 U.S. women working in the tech sector, 83 percent of respondents who had kids while working for their current companies said they felt pressured to return to their jobs while they were on parental leave. The survey was released this morning by job-listing site Indeed.
Survey participants gave different reasons for why they felt pressured to return early:
34 percent said they were directly pressured by colleagues or managers.

32 percent feared losing their jobs.

38 percent cited a fear of losing credibility or value."
Gender pay gap figures reveal eight in 10 UK firms pay men more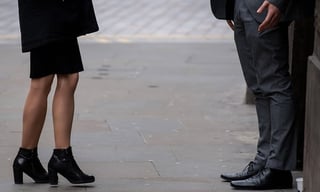 The Guardian
"Almost eight in 10 companies and public-sector bodies pay men more than women it was revealed, as the midnight deadline passed for businesses to report their gender pay gap.
Some eight years after the law was tabled to compel companies across Great Britain to reveal the extent of the difference between male and female wages, the data showed that women were being paid a median hourly rate that, on average, was 9.7% less than that given their male colleagues..."
Do You Have "Advantage Blindness"?
Harvard Business Review
"...Our research on speaking truth to power shows there is often a blind spot among the powerful, preventing them from seeing their impact on the less powerful. We call this advantage blindness. When you have advantage blindness, you don't feel privileged. You don't notice a life of special treatment; it's just normal. You don't think about your physical safety most of the time; you don't worry about holding hands with your partner in public; when you get angry, no one asks you if it's because of your hormones; and people in power generally look like you..."
Read ON!
Here is the Key to Closing the Gender Gap at the Top... Gender Dynamics
Leading Women
"Here's a fact about closing the leadership gender gap that might surprise you.
Back in the 1970s, progressive companies addressed the challenge of women's advancement issues with many tools including multi-day workshops that directly surfaced and addressed gender-based stereotypes.
This is surprising because until just recently, companies have tended to avoid this topic like the plague. This in spite of the fact that studies continue to point to barriers created by gender-based expectations and assumptions."
How Slack Got Ahead in Diversity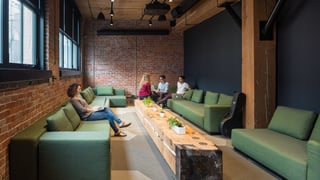 The Atlantic
"... Slack has been outperforming other Silicon Valley companies, and its current numbers show that the trend has continued. At Google, Facebook, and Microsoft, women hold between 19 percent and 28 percent of leadership positions and between 19 percent and 20 percent of technical roles, according to those companies' most recent figures. At Slack, women make up 31 percent of leaders and hold 34 percent of technical roles. Also, in Slack's U.S. workforce, percentages of underrepresented minorities (including black or African-American, Hispanic or Latino, or American Indian or Alaskan employees), are, in some cases, triple that of peer companies. At Google, Facebook, and Microsoft, underrepresented minorities hold between 4 and almost 8 percent of technical roles and make up less than 11 percent of all employees. At Slack, by contrast, underrepresented minorities make up almost 13 percent of technical roles and roughly 13 percent of all employees; they also make up 6 percent of leadership. The number of Hispanic women at the company has more than doubled since last year. The number of Hispanic men more than quadrupled..."
Equal Pay Day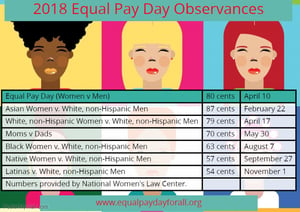 Leading Women
"...It can't be up to women alone to close the wage gap that is fundamentally created by managers who make inequitable salary decisions. Companies must conduct wage equity audits, make appropriate adjustments and monitor managers' wage decisions to ensure equal pay for equal work.
Are you serious about closing the leadership gender gap for all women in your organization? For more information on how to close it, check out these additional blog posts and contact us to help develop a game plan for your company to close the leadership gender gap!"