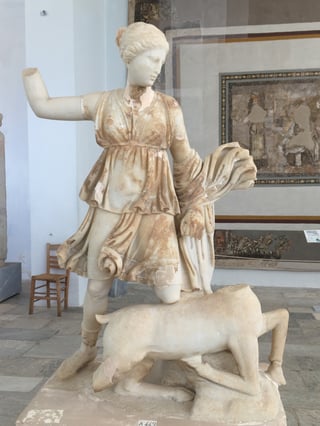 "History must be learned in pieces. This is partly because we have only pieces of the past...which give us glimpses of what has been but never the whole reality."
Thomas Cahill, author:
Sailing the Wine Dark Sea
This quote about the fragmentary nature of history reminded me of the photo I took of the goddess Artemis in the museum on the Greek Island of Delos (her birthplace). Artemis, the huntress, was one of the most widely venerated ancient Greek goddesses and seeing her I reveled in the thought that in certain cultures deities could be - and still can be - women.
In the U.S. and many other countries around the world we are very far from such cultures and far from any historic understanding of how the status of women has changed over time. Instead, as Marianne Cooper of Stanford University's Clayman Institute for Gender Research has said,
We spend much more time giving girls pep-talks than we do talking to them about sexism. Our need to encourage them over and over again... actually renders invisible the reasons that we need to be so encouraging in the first place.
The invisibility (dare I say denial) of sexism runs deep...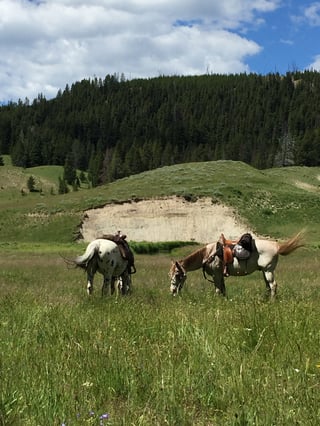 Take a look at the nine seconds of burbling Yellowstone "mudpot" action above. Here at Leading Women, we love this video because it's a perfect metaphor for shaking things up. And when it comes to shaking up the mindsets of managers in the service of closing the leadership gender gap, we're even more passionate. "I have taken a lifetime to create these mindsets," said one of our clients, a European executive at a global company, "and now you have destroyed some of them in three hours."Ka-pow!
The mire of mindsets
As humans, it seems we're forever struggling against our own stubborn, biased brains. (Some researchers have declared that it only takes a tenth of a second to form a nearly unshakeable first impression about others.) When it comes to the workplace, mindsets are a huge part of what creates the leadership gender gap. That's why, when 27 US CEOs pledged to fill fifty percent of their top roles with women by 2030, they called on senior managers to take actions such as these:

"...address unconscious bias; base advancement on performance rather than time in the office; promote women into operating roles with responsibility for profit and loss; set targets and communicate them; and actively sponsor promising female leaders." (emphasis added)
But even concrete actions such as these can fail because of the tricky, automatic activity in our brains...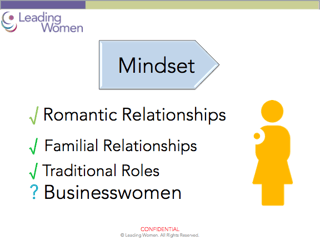 Women don't want to talk about it... men don't want to own up to it. The far too silent barrier to women's advancement is the dynamic of Non-Parental Gender-Based Role Expectations. Here's why.

About 10 years ago when we systematically started tracking gender dynamics, we didn't specifically ask about outright harassment because most companies' anti-harassment policies and practices seemed to be working fairly well. Instead we asked about overall "gender-based role expectations (non-parental)" and the dynamics of women being seen and treated as:
sex objects (through the lens of potential romantic relationships),
daughters/sisters needing protection or mothers to be rebelled against (through the lens of familial relationships) or
handmaidens (through the lens of roles traditionally held by women). ...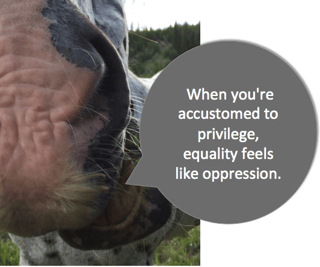 At the tail end of 2016, the CEOs of 27 large companies made an unprecedented announcement: they pledged to have 50% of their top leadership roles filled by women by the year 2030. To achieve the goal, they identified key actions for senior managers including:
"...address unconscious bias; base advancement on performance rather than time in the office; promote women into operating roles with responsibility for profit and loss; set targets and communicate them; and actively sponsor promising female leaders."
Executives in the EU and Australia have similar coalitions in place...

In the U.S. January is national mentoring month. While the month focuses on mentoring youth, we want to focus on mentoring women at levels from emerging to senior. There are two major reasons.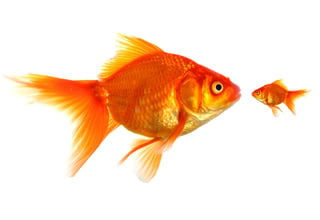 Women at the Top - Good for Business

First, we know that women at the top of organizations and on corporate boards is just plain good for business. We don't believe that women at the top necessarily causes this higher performance. Rather, we believe that women get to the top as part of a virtuous cycle created by high-performing companies that value performance over patronage and ...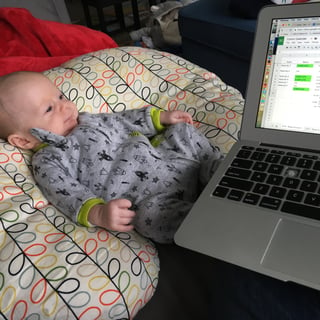 Mother's Day was this past weekend in the United States (and in many other countries as well) and my husband took our kids to the playground in the afternoon so I had few minutes by myself to read the paper - a luxury most parents will understand - when I stumbled upon an opinion piece in the New York Times entitled "The Gender Pay Gap Is Largely Because of Motherhood." This piece, while attempting to highlight the gender pay gap, completely missed the mark.
It isn't necessarily a problem with women prioritizing family, but rather with managers' expectations that they will and companies allowing managers to create unequal pay situations. Manager's mindsets strike again! ...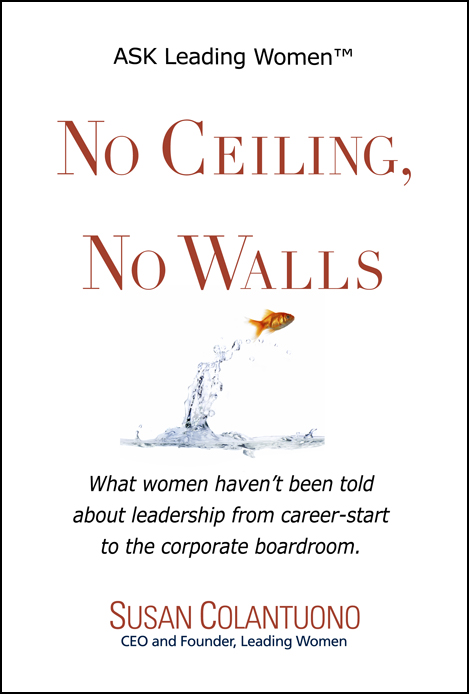 There are many things that women haven't been told about leadership from career-start to the corporate boardroom. I wrote an entire book about them, but there are 9 fundamental things about leadership that women haven't been told and need to know. They are these.
Leadership is simple, but it's not easy. It's simple if you have a definition of leadership that is useful and prescriptive. This is the first of 9 things that every woman should know about leadership:
1. "Leadership is using the greatness in you to achieve and sustain extraordinary outcomes by engaging the greatness in others." This definition is one you can use to make plans at the start of each day or evaluate actions at the end of each day. Acts of leadership involve standing on the foundation of personal greatness, focusing on achieving key outcomes and engaging others in achieving those outcomes...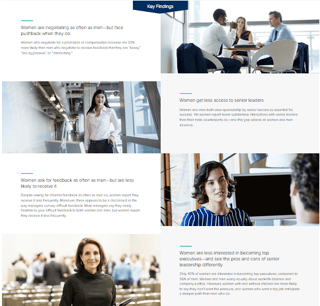 Shakespeare's Hamlet denounces his mother's swift remarriage by saying, "Frailty, thy name is woman." One could suggest that researchers have been doing the same for the leadership gender gap.
As I read the key findings from LeanIn/McKinsey's latest research I notice a pattern with how they reported on gender issues. Take a look at these excerpts from the "Women face an uneven playing field" section and see if you can catch it...
Do you see the pattern? The dynamics that create the uneven playing field and hold women back are presented as if women are the problem, women cause the problem or women are the passive recipients of problems with no known causes...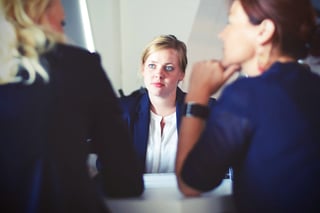 Recently, a podcast host asked me if I'd be interested in doing an interview on gender differences in leadership styles. More specifically, the host wanted me to chat about how women are much more inclusive leaders than men. On the surface, this seems like a positive development for women, and something that's worth crowing about. It's also got a lot of traction: viewing women as more inclusive leaders seems like something that will finally get them into the C-suite en masse, no?
I declined.
No matter how positive it might seem on the surface to point out the "innate" characteristics of female leaders, it never leads to the kind of change we want. Read on to learn about the sinister side of gender essentialism, and how defining women leaders differently doesn't serve them...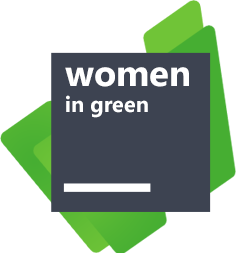 Last year, Leading Women partnered with the data storage and protection company Veeam to launch their initiative Women in Green (WIG). WIG invests in time, resources, and networking opportunities for their female work population. Mentoring is one of the components of the WIG initiative — and, most importantly, it's one of the elements of diversity and inclusion initiatives that actually works. Here's the story:
As a company in the technology sector, you might not expect Veeam to be extraordinarily woman-centric. After all, the industry gets a bad rap for being, as the Atlantic put it earlier this year, "awful to women." But Veeam is striving to be a billion-dollar company — and their executives know that they can't achieve that goal unless everyone at the company is contributing...