On a timely basis we curate fabulous articles about closing the leadership gender gap on our Facebook page, LinkedIn Leading Women group and company page, and also Tweet them out.
We then share the the best of the best here on our blog!
The 2017 NAFE Top Companies for Executive Women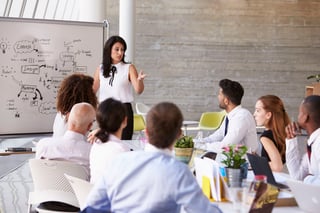 Working Mother
At this year's winning companies, women run billion-dollar lines of business, fill board seats and occupy CEO jobs. When great companies foster cultures that nurture and appreciate professionals of all stripes, their highest ranks can fill up with smart and dedicated leaders who know exactly what customers need...
Meet the 2017 NAFE Top 10 Nonprofit Companies for Women.
"Fearless Girl"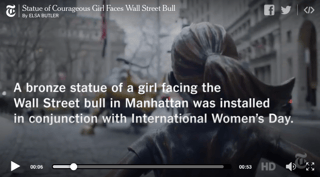 New York Times
"At just over four feet tall, she appears ready to take the bull by its horns.
A bronze statue of a girl, fists on her hips, staring down the famous 7,000-pound "Charging Bull" sculpture near Wall Street, captivated passers-by on Wednesday and drew an overwhelming response online, where many viewed it as a powerful symbol for International Women's Day.
Stories and images of the statue, called 'Fearless Girl' and placed on behalf of the investment firm State Street Global Advisors, trended on Facebook and appeared thousands of times on Instagram and Twitter, garnering praise from women including Chelsea Clinton and the actress Jessica Chastain, who called for it to remain in Lower Manhattan beyond its one-week permit. The statue already has its own Wikipedia page."
New York Times
"Susan Colantuono, the CEO of Leading Women, a consulting firm focused on advancing women and closing the leadership gender gap in the workplace, said that while three women on a board may seem like a tiny number (and it is) it's actually an important minimum for these companies to hit. 'Research shows that if you have one woman on a management team or board, she's marginalized,' Colantuono said. 'If you have two, they are pitted against each other. With three, it becomes more normal.'
'Three is pretty good for the U.S., where we don't have quotas like in Europe,' Colantuono said."
Air India Just Made History With Its Female-Led Around-the-World Flight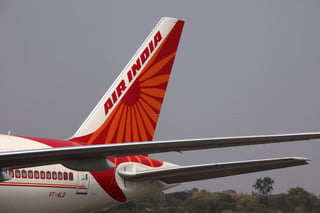 Fortune
A dose of inspiration! #BeBoldForChange!
"Air India says it has made history with an around-the-world flight led by an all-female crew.
Last Monday, the all-woman team flew a Boeing 777 over the Pacific Ocean from New Delhi to San Francisco. Then on Friday, they flew over the Atlantic Ocean from San Francisco back to New Delhi, CNN reports.
Every staff member—including the fight's captains, cabin crew, check-in and ground handling staff, air-traffic controllers, and engineers—were women."
Quartz
"Visibility is and will continue to be incredibly important for the women's rights movement, both in the United States and around the world. But visibility alone isn't enough. When we rally against systemic, institutional inequality, we need concrete follow-up steps in the form of policy changes. Admittedly, this is challenging for American women, since we remain sorely underrepresented throughout all levels of government. Until we achieve parity, male allyship will continue to be a large part of the solution."
Leading Women
"Bread and Roses" became a rallying cry for the movement and shows what we can do when we break down barriers and work together. The intersection of the women's rights moment and labor movement and between workers of many different ethnicities lead to a win for the strikers and sweeping labor reforms across the United States. Intersectionality and overcoming gender dynamics was key to success of the Bread and Roses Strike and the Women's Day Off, and it is key to the women's movement now.
'Women want to change the world, men want to rule it': Intel's most senior woman on tech's gender problem
The Independent
The challenge of pioneers eloquently stated. Be generous with women who are paving the way.
"I always get people who say 'You're not being yourself, you sold out', but it's like, you're the minority. You either sense your environment and figure out how to adapt to the norm or you resign yourself to being pushed to the outskirts of the conversation."
--Susan
A perspective on the unequal representation of women in leadership
Workplace Law & Strategy
Thank you Justine Turnbull and Cassie Howman-Giles for your coverage of lessons taken away from Susan's AmCham presentation!
"At a breakfast event hosted by the American Chamber of Commerce for International Women's Day, presenter Susan Colantuono (CEO of US firm Leading Women) asked the men in the audience what percentage of women they believed left their corporate roles because of family responsibilities. Responses of 50% and 60% were confidently called from the audience. However, research conducted by Citi Global tells us how wrong these responses were. It found that 63% of women who resigned from their corporate roles took other corporate roles, the same percentage as men, while 22% of women started their own business. Only a portion of the remaining 15% of women who resigned their roles did so to care for their family. This is just one example of unconscious bias."