On a timely basis we curate fabulous articles about closing the leadership gender gap on our Facebook page, LinkedIn Leading Women group and company page, and also Tweet them out.
We then share the the best of the best here on our blog!
Dear Investors: So You Want to Take Diversity Seriously
Medium
"Today, too many VC's labor under self-serving myths and assumptions that, when spoken out loud to those of different backgrounds, turn out to be highly offensive.
We remember the time a prominent VC was asked about his firm's experience with diverse entrepreneurs at a public forum, one that consisted largely of very accomplished people of color from tech and entertainment. His response, peppered with pride, was that he was "color-blind" when it came to entrepreneurs. He said that he didn't care what gender or color someone was, and that he didn't care if a founder just "happened to be Black." He was completely unaware of how clueless and harmful this notion is."
Tesla just welcomed this CEO to its board. Here's why it's a big deal for Silicon Valley
CNBC
Congratulations Ebony Media CEO Linda Johnson Rice for joining Tesla's board!
--Susan
"On Monday, Tesla welcomed Ebony Media CEO Linda Johnson Rice, the second woman out of a group of nine board members and the first African-American to hold that role, according to Fortune.
"We're very excited that Tesla has named Linda Johnson Rice to the board," Ronald C. Parker, chairman of the Alliance for Board Diversity, tells CNBC Make It. "Tesla is an innovative company and we'd like to see more blacks and women in these tech spaces."
Tesla's announcement this week marks a break from the more common appointment of white males to board positions."
6 Qualities of Fearless Women We
and You Should Too!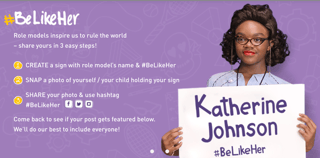 GoldieBox
#BeLikeHer campaign gives attention to powerful female role models for young women!
"Girls can't rule the world…until we show them how and the past year has given us many fearless women to look up to– problem-solvers, storytellers, innovators, and achievers. Now more than ever, girls need to see these role models; women who look just like them; who embody the qualities they want to emulate; who pave the way for unlimited future possibilities.
Our new video, #BeLikeHer, embodies this idea by highlighting inspirational women and moments over the last year. Join us in celebrating a few of these incredible women—from politics, STEM, film, and sports. It's never been more important to move forward together and show the girls in our lives that they can be anyone they want to be!"
New York Times
All that we at Leading Women work to illuminate and lessen!
--Susan
"The impact of gender is hard to pin down decisively. But after years of biting their tongues, believing their ranks would swell if they simply worked hard, many senior women in business are concluding that the barriers are more deeply rooted and persistent than they wanted to believe, according to interviews with nearly two dozen chief executives, would-be chief executives, headhunters, business school deans and human resources professionals.
What they say: Women are often seen as dependable, less often as visionary. Women tend to be less comfortable with self-promotion — and more likely to be criticized when they do grab the spotlight. Men remain threatened by assertive women. Most women are not socialized to be unapologetically competitive. Some women get discouraged and drop out along the way. And many are disproportionately penalized for stumbles.
"For years I thought it was a pipeline question," said Julie Daum, who has led efforts to recruit women for corporate boards at Spencer Stuart. "But it's not — I've been watching the pipeline for 25 years. There is real bias, and without the ability to shine a light on it and really measure it, I don't think anything's going to change. Ultimately at the top of an organization there are fewer and fewer spots, and if you can eliminate an entire class of people, it makes it easier."
How employee networks can help boost a company's bottom line
London School of Economics

"When a business successfully harnesses its talent, ERGs can have a significant impact on a company's bottom line. From Campbell Soup Company, which worked with its women's group to increase sales of certain product lines, to Chevron, which was given valuable advice on Hispanic marketing opportunities by its Latino group, they can have many positive outcomes."