On a timely basis we curate fabulous articles about closing the leadership gender gap on our Facebook page, LinkedIn Leading Women group and company page, and also Tweet them out.
We then share the the best of the best here on our blog!
How to accelerate gender diversity on boards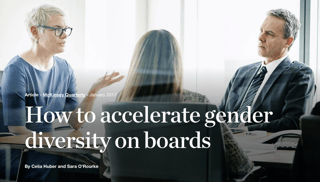 McKinsey Quarterly
"The tone of much public discourse on the issue of women's representation on boards has been pessimistic of late, and understandably so, given the crawl toward gender parity in the United States. Women currently hold 19 percent of board positions there, while in European countries such as France, Norway, and Sweden, where legislative or voluntary targets are in place, they hold more than 30 percent.
That said, some progressive companies are taking the lead, looking for female board members in new places and bringing them on board in new ways. Many feel they still have a long way to go, but their experiences are salutary for those that are lagging behind and want to better understand how to make change happen."
A Blog I Never Imagined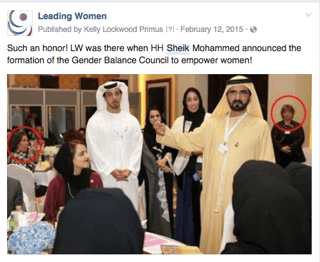 Leading Women
"In February 2015, I was invited to the Government Summit in Dubai (think World Economic Forum for government officials). I was the opening speaker for a workshop on gender balance. The participants had all been improving the lives and economic participation of women in their countries for years. They came together to share experiences and extend their work in order to move further toward gender balance. They included high ranking women (and some men) from throughout the world - including countries covered by the U.S. recent immigration ban."
How can women rise to the top of an organisation?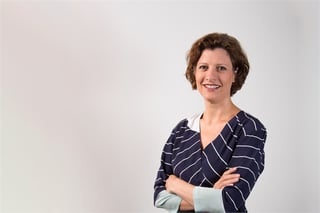 Campaign
"...Demonstrate that you understand how to contribute to your organisation's financial goals and strategy The best kept secret for moving up the career ladder is having the ability to demonstrate to your company that you have Business Strategic Financial Acumen, as described by author Susan Colantuono, CEO & Founder of Leading Women on TedX. It is important that your manager knows you understand the key business drivers and all your decision making is underpinned by how it will contribute to the company's financial success"

NPR: Planet Money
"There's a problem in Silicon Valley. The problem is diversity. Companies know this. They're trying to work on it.
A couple of our reporters started looking into why gender diversity in the tech industry is so dismal, and their quest took them back to the year 1984.
What they found in 1984 wasn't a grand conspiracy. It was much more simple. A simple problem that can be tweaked, and maybe, reversed."
Brenda Barnes, Former Sara Lee CEO and Hero to Working Moms, Dies at 63
Fortune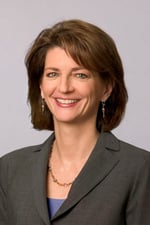 This makes me so sad. Brenda was one of the pioneers and someone I studied extensively for No Ceiling, No Walls. Consoling thoughts to her family and friends and all the women for whom she is a role model - Susan
"Barnes was the most powerful woman in the packaged goods industry in the 1990s when she headed Pepsi-Cola North America. She famously left her big job in 1997 to spend time with her family—igniting the "Can women have it all?" debate that still resounds today."
What's Wrong with What Women are Taught About Executive Presence?
Leading Women
Leading Women teamed up with researcher, Lara El Feghaly, to analyze the responses to the question:
"Think of a woman who has executive presence.
What characteristic about her stands out the most to you?"
These responses then were applied to our 3-part definition of leadership:
"Leadership is using the greatness in you
to achieve and sustain extraordinary outcomes
by engaging the greatness in others"
--Susan Colantuono