On a timely basis we curate fabulous articles about closing the leadership gender gap on our Facebook page, LinkedIn Leading Women group and company page, and also Tweet them out.
We then share the the best of the best here on our blog!
Four Reasons Women Make Great Executives
Forbes
We at Leading Women are honored to have our research cited in this Forbes article by Ron Carucci, author of Rising to Power. He makes the case for why gender initiatives matter!
"Susan Colantuono, CEO of Leading Women, in her TED Talk, reveals vital research...that "when identifying high potential candidates for career advancement, executives and boards look for people with business and strategic acumen by a factor of nearly 2 to 1. This is significantly out of line with the advice that women are given about career success."
For Women in Advertising, It's Still a 'Mad Men' World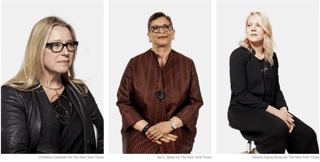 New York Times
"Women now make up almost 50 percent of those working in the advertising industry, including a relatively small number, like Ms. Credle, in top executive positions. Yet when a female employee of the J. Walter Thompson agency filed a lawsuit in March accusing the company's chief executive of racist and sexist behavior, the accusations brought to the surface what women in the industry had talked about for years: that more than half a century after the "Mad Men" era, gender bias, while often unspoken or acknowledged, continues to affect how they are treated at work, whom they interact with and what positions they hold."
One of the Most Powerful Women in Germany Is Making a Comeback
Fortune
"For those who've watched her career unspool over the past three decades, her return is relief. Because Stachelhaus is known as one of Germany's rare glass ceiling smashers, it was deflating to hear the rumors that the rationale for her exit—an "illness in the family"—was actually code for her being fired. It seemed like a deflating end to a hard-won career."
Women are more likely than men to be appointed CEO of firms in crisis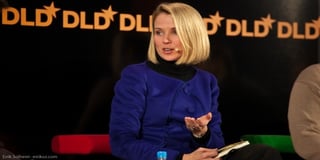 London School of Economics
Leading Women's own research on Fortune 500 Women CEOs supports this!
"Women are far more likely than men to be appointed CEO in firms that are in crisis. Termed the "glass cliff," this means that women CEOs are much more likely than men to inherit significant organisational challenges when they take the helm of their companies. From the start, women CEOs face challenges that their male peers do not—and they do so with less authority, less support and a great deal more scrutiny than men CEOs."
These Ads Mocking Gender Bias in Tech Are Spot On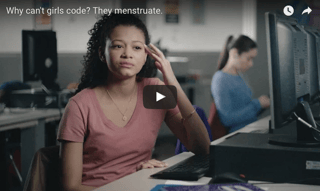 Motto
"'Every day, women are faced with negative bias for being women and women in technology,' Reshma Saujani, founder and CEO of Girls Who Code, told Adweek 'We feel that in addition to teaching girls to code, we need to change culture. We really wanted to spark a conversation about what we could do to create a more inclusive, well-rounded image of what a programmer is.'
Each of the videos for the campaign focus on a different 'reason' girls can't code: They have boobs, they menstruate and they're beautiful. All of the ads ends by saying, 'Girls do code. Every other theory is ridiculous.'"
Any, boy, they are truly ridiculous!
Read ON!
Minimize the Impact of Gender Dynamics
Leading Women
Leading Women has conducted ground-breaking research about gender dynamics around the globe - and the findings are essential if your workforce is global. Wonder what we've discovered and how it can help shape your initiatives to close the leadership gender gap?
You'll discover:
Prominent gender dynamics in several countries

Disturbing difference in perception between women and men (along the lines of "we don't know what we don't know")

Success criteria for gender dynamics education.