On a timely basis we curate fabulous articles about closing the leadership gender gap on our Facebook page, LinkedIn Leading Women group and company page, and also Tweet them out.
We then share the the best of the best here on our blog!
Empowering Women | Campbell's Denise Morrison on what it takes for women to rise in power
NJBIZ
Finally! Career advice worthy of aspiring women...and supportive organizations!
One piece, "Companies can help by creating an environment where women — and men — are measured not by the tasks they have achieved, but rather, by the contributions they have made that have had an impact on the business results."
And, "There is a dual mandate here: Women need to take charge of their career, secure line experience, deliver results and build relationships that matter. At the same time, companies need to provide the line opportunities and the roadmap for advancement replete with training and sponsorship for their success. Under these circumstances, I believe that the cream will rise to the top and it will be a win-win for women and for corporations."
Breaking down the gender challenge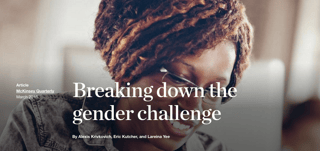 McKinsey Quarterly
McKinsey validates (and slightly extends) what Leading Women has been saying for years! Know and target your company's leadership gender gap start point with level-appropriate interventions. Want to know how your company can join other smart, global companies doing this well? Contact us!
"Targeting pipeline blockages isn't a panacea but can be a valuable means of jump-starting progress. We hope the patterns we've described here will help companies to focus their efforts, make meaningful changes, and build momentum to deal with less visible barriers. Tackling gender issues should not be a firefighting exercise—jumping, every year, to the next thing. It takes a strategic eye to find the root causes of gender inequality and build a new kind of organization."
Why So Many Thirtysomething Women Are Leaving Your Company
Harvard Business Review
Leaving for "family" has been an "acceptable" exit interview response when women don't want to criticize the pay, opportunities or leadership of their companies. But that is not the full story...
"A recent global ICEDR study revealed that leaders believe that the majority of women around the age of 30 leave because they are struggling to balance work and life or planning to have children, whereas men leave because of compensation. However, according to women themselves (and in sharp contrast to the perceptions of their leaders), the primary factor influencing their decision to leave their organizations is pay. In fact, women are actually more likely to leave because of compensation than men."
'I Surveyed More Than 1,000 People to Find Out How Having a Working Mom Really Affects Kids'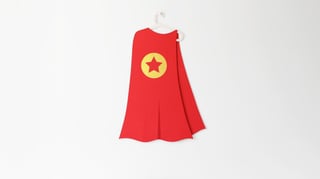 MOTTO
"As it turns out, most of the children who grew up with working mothers, especially the daughters, felt they actually thrived from having a parent who taught them invaluable life skills. All mothers work hard to prepare their children for adult life, but according to my survey, 56% of daughters whose mothers worked said their moms were very helpful in teaching them to be independent (compared to 35% of daughters whose mothers stayed at home).
'I wouldn't trade what I got from her for the world," one daughter told me. I heard this sentiment again and again. "I would definitely encourage moms to stay in the workplace," said another. "It was an inspiration to me that my mother worked. I have huge respect for her." In fact, 50% of daughters surveyed said their working mothers were very helpful in instilling a strong work ethic in them, versus 32% of daughters whose mothers stayed at home."
You can learn more about this from Pamela Lenehan in her book My Mother, My Mentor: What Grown Children of Working Mothers Want You to Know.