On a timely basis we curate fabulous articles about closing the leadership gender gap on our Facebook page, LinkedIn Leading Women group and company page, and also Tweet them out.
We then share the the best of the best here on our blog!
Worldwide Business with kathy ireland®
& Leading Women
Leading Women
In an her interview on Worldwide Business with kathy ireland®, Leading Women's CEO Susan Colantuono was asked the question: "If you had one piece of advice to give to a CEO, what would it be?
She answered, "As a CEO, or as an executive or director for that matter, if women aren't proportionately represented throughout your organization, you aren't facing a women's issue — you're facing a talent development issue with business implications. And so it's important to bring your personal commitment and the same level of organizational accountability to that challenge as you would to any business issue."
Photo: Leading Women Appearing on the set of Worldwide Business with kathy ireland®
This Industry Has No Pay Gap Between Male and Female CEOs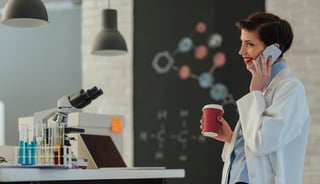 Fortune
Good news, equal pay in biotech. Not so good news, to earn equal pay, women are more educated. What's the saying? "Women have to work twice as hard..."
--Susan Colantuono
"Unless you've been living under a rock, you probably know that the average American woman makes 79 cents for every dollar a man makes. And that gap is tenacious, affecting women even as they climb to the very top of the corporate ranks: Women account for only 17 of the 200 CEOs in Bloomberg's Pay Index, which ranks the highest-paid executives.
There does, however, appear to be an exception.
According to professional services firm Thelander Consulting's 2016 Private Company Compensation Report—which gathered data on 978 private companies—median base pay for male and female biotech CEOs was identical in 2016 (155 men and 19 women were included in the analysis, says Jody Thelander, the company's president and CEO)...."
Racial, gender wage gaps persist in U.S. despite some progress
Pew Research Center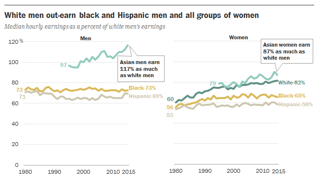 "

Looking at gender, race and ethnicity combined, all groups, with the exception of Asian men, lag behind white men in terms of

median hourly earnings

, according to a new Pew Research Center analysis of Bureau of Labor Statistics data. White men are often used in comparisons such as this because they are the largest demographic group in the workforce – 33% in 2015."
The Black Women Executives Research Initiative Revisited

The Executive Leadership Council
"Black Women Executives Research Initiative, published in 2008 by The Executive Leadership Council (ELC), Institute for Leadership Development & Research, was a study conducted by Springboard – Partners in Cross Cultural Leadership in 2007- 2008 to examine the facilitators and impediments to Black Women Executives in reaching the C-Suite. Springboard again partnered with The ELC in 2014-2015 to reinterview nearly 80% of the Black Women Executives from the original study. To our knowledge, this is the first longitudinal study of black women executives in corporate America ever conducted.
While the interview protocols for the two research studies were similar, there were also marked differences. In both interview protocols, we endeavored to hear each executive's story in her own words. In both interview protocols we asked about success factors and impediments to reaching the C-Suite or achieving other similar career goals. However, in 2014, we updated the interview protocol to include key insights from the 2008 study as well as to incorporate key findings from more recent leadership studies."
How Wall Street Bro Talk Keeps Women Down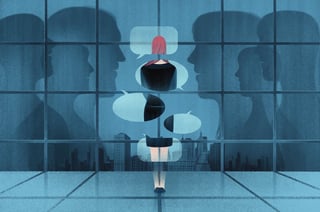 The New York Times
"...In many ways, objectifying women was the rite of passage through which I entered the world of men.
That helps explain why I stood silent hundreds of times as men objectified and degraded women. Protesting would have violated the sanctity of the men-only space, and would have risked interfering with the bonding that goes hand in hand with the objectification of the other sex. It would have been embarrassing and emasculating. And it would have been bad for my career...
If hedge fund founders, managing directors and desk heads instituted a zero-tolerance policy for this behavior in their ranks, it would help engender a culture of respect for women on Wall Street. And if men of status in our wider culture — managers, coaches, politicians, celebrities — insisted that women were spoken not just to, but about, with respect, that would help create a culture where it's not so scary to be the parent of a daughter."
Read ON!
28 of the Best Motivational TED Talk Videos
to Inspire You
Hubspot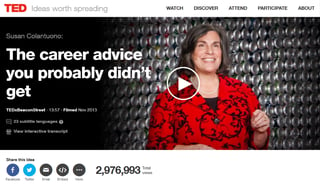 We are honored that Susan Colantuono's TED talk was listed #4 in this recent list of the of the 28 of the Best Motivational TED Talk Videos to Inspire You compiled by HubSpot!
Check out the ticker... We have almost reached 3 MILLION VIEWS! So please take a moment and watch, rewatch, and share Susan's talk with your friends!