On a timely basis we curate fabulous articles about closing the leadership gender gap on our Facebook page, LinkedIn Leading Women group and company page, and also Tweet them out.
We then share the the best of the best here on our blog!

THE ESTROGEN EFFECT: Huge study finds that companies with more women leaders are more profitable
Quartz
"'The evidence on women in the C-suite is robust: no matter how we torture the data we get the same result: women in the C-suite are associated with higher profitability,' Marcus Noland, director of studies at the Peterson Institute, told Quartz in an email."
At Leading Women our theory (based on earlier research) is that this is the cause of the correlation:
Companies where HR practices result in hiring and advancement decisions on the basis of objective performance rather than subjective factors are better run AND get more women to the top!
IBM Is Blowing Up Its Annual Performance Review
Fortune Magazine
"There is no single measure of an employee's performance like before. 'In the old system, there was one score. People [got] sort of obsessed by that,' Gherson said. 'In the new system, there are five scores. It leads to a much richer, more balanced discussion.'
With Checkpoint, IBM employees will set shorter-term goals, and managers will provide feedback on their progress at least every quarter. At the end of the year, employees will be judged across five criteria—business results <O>, impact on client success <O>, innovation <O>, personal responsibility to others <E>, and skills <P>. Managers will assess whether employees have exceeded or achieved expectations for their role in each of those five dimensions or if there's a need for improvement."
We then used Leading Women's defination of leadrship - Leadership is using the greatness in you to achieve and sustain extraordinary outcomes by engaging the greatness in others - found that:
3/5 for ‪The Missing 33% (O - Susatain extraordinary outcomes)
1/5 for engaging others (E - Engaging the greatness in others)
1/5 for using personal greatness (P - Using the greatness in you)
Well done, IBM!
The remarkably different answers men and women give when asked who's the smartest in the class
The Washington Post
"Anthropologist Dan Grunspan was studying the habits of undergraduates when he noticed a persistent trend: Male students assumed their male classmates knew more about course material than female students — even if the young women earned better grades.
'The pattern just screamed at me,' he said."
This is a pattern that upsets us as well. It is another example of why tackling Gender Dynamics must be a component of initiatives to close the leadership gender gap.
Exclusive: Accenture Is the First Big Consulting Firm to Publish Race and Gender Stats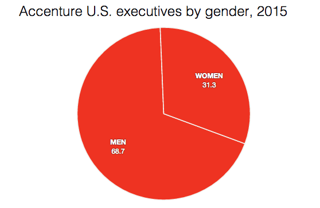 Fortune Magazine
Transparency! Well done, Accenture.
"Making the numbers public will hold the company accountable for showing improvement, she says. What's more, Sweet hopes that this new level of transparency will allow Accenture to have more explicit, productive discussions about race and gender internally.
To help speed the pace of change, the company also announced that it is starting a new referral program that will reward employees who refer women, black, Hispanic, and veteran candidates who end up getting hired. This comes on the heels of a slate of new parent-friendly policies announced last year, including 16 paid weeks of maternity leave and an option for new parents to work locally for one year after the birth of their child."