In February 2015, I was invited to the Government Summit in Dubai (think World Economic Forum for government officials). I was the opening speaker for a workshop on gender balance. The participants had all been improving the lives and economic participation of women in their countries for years. They came together to share experiences and extend their work in order to move further toward gender balance. They included high ranking women (and some men) from throughout the world - including countries covered by the U.S. recent immigration ban.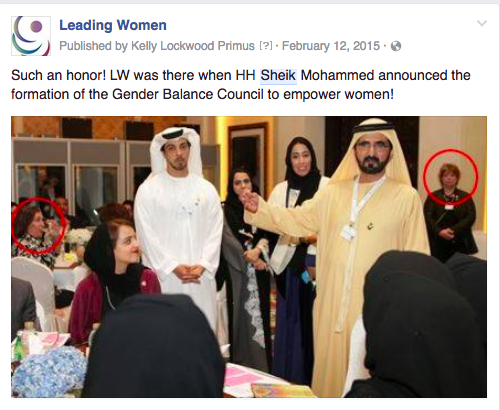 Susan Colantuono and Kelly Primus (circled). Official photo from Government Summit
Some of them had studied in the U.S. All of them were making it possible for women in their countries to live bigger lives, to study abroad, and to apply their talents to the world's problems (for example at research and academic institutions in the U.S.). Perhaps one who benefited from the efforts of the workshop participants was Samira Asgari. She is "an Iranian who holds a doctorate from the École Polytechnique Fédérale de Lausanne in Switzerland, was traveling to Boston to begin working on a tuberculosis project at a Harvard Medical School laboratory — but she and her boyfriend were turned away at the Frankfurt airport" and told to go home.
Over the past 10 years, our work with clients around the globe has included programs for cohorts from EMEA - which have included women from countries covered by the recent immigration ban. They are often trailblazers in their families and societies and have been recognized as future leaders by their companies. Perhaps one of them is due for a promotion that requires relocation to the U. S.
Any of the women (and men) with whom we've worked in Dubai or EMEA cohorts would be valued contributors to America - and under the current executive order - many of them could not enter the U.S. to speak, work or visit.
At Leading Women we believe in diverse and inclusive societies and workplaces and immigration policies that create them. To quote Brad Smith, President and Chief Legal Officer of Microsoft,
"We believe that immigration laws can and should protect the public without sacrificing people's freedom of expression or religion. And we believe in the importance of protecting legitimate and law-abiding refugees whose very lives may be at stake in immigration proceedings.
We believe that these types of immigration policies are good for people, good for business, and good for innovation."

My paternal grandfather and all my great grandparents were immigrants. I honor the sacrifices they made and the policies that enabled them to settle in the U.S. This is a blog I never would have imagined writing, but after the events of the past few days and the scarcity of business women speaking out, I choose to speak up.
This country has constitutional and international agreement obligations relating to immigrants and refugees. I call upon this administration to uphold them.
Lead ON!
Susan
Susan L. Colantuono, CEO
+1-401-789-0441

Author: No Ceiling, No Walls and Make the Most of Mentoring
"Leadership is using the greatness in you to achieve and sustain extraordinary outcomes by engaging the greatness in others."
Susan L. Colantuono
Closing the Gender Gap: TED.com