News, Insights and Information
Strategic Communication & Leadership Presence
Leadership
The Missing 33%™
If interpersonal skills are so important to leadership success and if women consistently outperform men in this skill set, why don't women hold many more seats at the top of organizations? Because people skills and professional competence aren't two halves of a whole. Together they make up only 66% of the success equation. What's the missing slice of the career success pie chart? Complete the circle here.
What Women Haven't Been Told About Career Success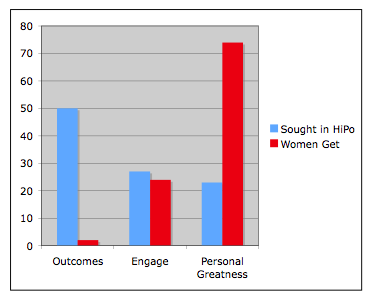 Career advice received by women covers only 2/3 of the success equation in business. This Missing 33%™ has serious implications for a woman's chances of being seen as high potential, receiving promotions to senior positions, receiving optimal benefits from mentoring relationships and nurturing the next generation of women leaders. Find out more here.
To Succeed in Life and Work
Before the holidays, Lisa Gates of She Negotiates started a discussion on ForbesWoman with this "burning question:"
"What are the top 10 things you think all women need to learn to master to succeed in life and work?"
She sparked a pretty active discussion and here is what I observed about the replies...
Leadership and Life's Big Questions
I'm inspired by a presentation I saw Brendon Burchard make in which he said that at the end of our lives, each of us wants to be able to say "YES!" to 3 questions:
1. Did I live?
2. Did I love?
3. Did I matter?
Too often questions like these make us think about life outside of work. But they apply equally to life at work. How? Find out here.
Managing New Job Transitions
You've taken a new job. Congratulations!
Now you have to gracefully exit your old position and transition into the new. For both, our leadership definition is a useful guide. Discover how to use the definition to manage your transition out of your old job and into your new. Go here
The Resilient Leader
Resilience - the ability to overcome challenges and turn them into opportunities - may be the new criterion for professional advancement, according to Accenture. A global research study entitled Women Leaders and Resilience: Perspectives from the C-Suite, reports that more than two-thirds (71%) of surveyed senior level executives report that resilience is critical in determining employee retainability during an economic downturn. What can you do to become more resilient, find out here.
9 Things Every Woman Should Know About Leadership
There are many things that women haven't been told about leadership from career-start to the corporate boardroom. I wrote an entire book (No Ceiling, No Walls) about them, but there are 9 fundamental things about leadership that women freqently aren't told and need to know. They are these.
Leadership Encounter of the Grizzly Kind
Now this Grizzly - inspite of seeming totally preoccupied with fishing - is a little too close for comfort. Excitement mixes with fear in most of us. H. A. Moore (our outfitter) and Justin (my son) make sure that all the food is immediately put in the panniers and hung high out of reach. The rest of us grab cameras and binoculars and watch the bear amble into and out of the stream, heading in the general direction of the campsite. What leadership lessons did we learn? Read about them here.
Plan Like a CEO™
There are four essential skills and attributes required in order to Plan Like a CEO: "soft eyes", strategic thinking, understanding the business of the business and process ownership skills. You can develop and strengthen these skills as you lead from any level in the organization. Learn to showcase your strategic acumen here.
Lead Now or Forever Hold Your Place!
Great leaders, at any level of the organization (whether individual contributor, supervisor, manager or executive) understand with increasing clarity the business of their business. Without this understanding, no matter how good your performance, no matter how frequently you meet deadlines, no matter how many hours you invest; you are ultimately not going to be viewed as a leader. You'll be stuck right where you are. Learn to get unstuck here.
Sprezzatura and Otaku: Factors in Leadership Excellence
Sprezzatura - an Italian word meaning "effortless mastery." Otaku - a Japanese word describing something that's more than a hobby, but less than an obsession. What do these two words and the concepts they embody have to do with leadership? Expand your vocabulary and find out here.
Changing a Culture is Harder than Turning an Aircraft Carrier
I recently read a book in which the author claims that changing a culture is like turning an aircraft carrier. I, frankly, think his similay totally misses the mark! Learn the top 5 reasons why changing a culture is harder. Look here.
Strategic Communication & Leadership Presence

Beyond Fashion-Forward
Fashionistas would have women believe that what we wear, the accessories we use and how we look are keys to executive presence. But in the context of executive presence, this emphasis on personal appearance leads women astray. What is the key to executive presence? Find out here.
Delivering Your Core Message
I had a very important reason for asking Christine what outcome she sought for the conversation. Many managers don't engage in strategic communication. They don't know what core message they must deliver and they especially lose sight of their core message when having a difficult conversation. They let their discomfort with the conversatin get in the way of their effectiveness. Go here to learn how to better deliver your core message.
Invisibility, Humility and Boasting
Yesterday as I worked from m y home office, a small herd of young deer came over the stone walls. Two entered the yard. A nibble from the ground here, a nibble from the ground there. Delicate steps, ear-twisting listening, noses seeking the scent of danger. Zip, gone a few tips of lily leaves, a few hydrangea leaves, a few rose leaves. Deer and leadership? Find out here.
Can You Lead a Horse to Water?
Leadership presence is comprised of many elements: appearance, dress, confidence, business-savvy, verbal and non-verbal expression. Work with horses provides an opportunity to focus with laser precision on non-verbal communication and our ability to moderate the power we radiate. Acquire more "horse sense" here.
Leadership Lessons Straight from the Horse's Mouth
Because Jeanne loved to ride I could use the metaphor of "riding as leading from the saddle" to help her achieve a deeper understanding of her leadership role. "Imagine," I said, "you're riding on a trail and you come to a wooden bridge over a small stream. Instead of walking calmly over, your horse skitters over it. What would you do?" Find out here what this has to do with leadership.